In our 'Student Question Time' series all the main party leaders will answer questions posed by Student Room members:

* Nick Clegg's answers are live here
* Gordon Brown's answers are live here
* David Cameron's answers are live here
Caroline Lucas leader of The Green Party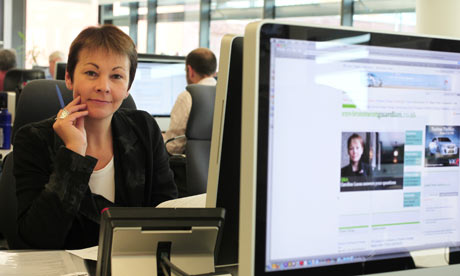 Thank you to Ms Lucas for taking the time to respond personally to young voters and thank you to the members who submitted such excellent questions. It was very difficult to choose just 10 from the 400+ suggested.
Question 1 – Asked by eddy2375:
How do you plan to respond to the growing prevalence of unpaid internships, including parliamentary internships? What is your view on unpaid internships, placements and work experience in relation to the law and to National Minimum Wage rules? How will you ensure that internships are open to all, rather than to those who are in a position to work for free?
Caroline Lucas' answer:
"It's true that more young people than ever now find themselves having to work for nothing in order to get a foot in the door. Work experience and internships can be a genuinely useful way of finding out more about your chosen industry and showing that you are committed to working hard for little or no reward. But naturally, this can give those from wealthier backgrounds an unfair advantage.
It goes without saying that internships and work placements should always offer fair expenses to cover travel and food. It may also be beneficial to limit the number of unpaid internships that one person can do, in order to make it a fairer marketplace for those who can only afford to do one. The Green Party would be keen to follow best practise advice on this from industry and employment specialists, and student welfare advisors.
The fact that parliamentary internships are often unpaid could be addressed by an overhaul of the way political parties are funded – something the Greens have long been fighting for. At present, there is no state funding for political parties in the UK, which makes it extremely difficult for small or new parties outside of the Big Three to get off their feet and, importantly, employ paid staff. Making state funding available would improve democratic representation, whilst also enabling parties to pay out more for internships. It's worth saying that in the European Parliament, where I have served for over 10 years, interns do get paid for the great work they do because the institutional funding rules allow for it.
In the longer term, the Green Party is calling for the introduction of a universal Citizen's Income, which would give everyone the financial flexibility to, for example, undertake unpaid internships and work placements. We also support a National Minimum Wage that is a genuine living wage, at 60% of net national average earnings (currently this would mean a minimum wage of £8.10 per hour) to help those working in part time or low wage jobs."
——————————————————————————-
Question 2 – Variations asked by DiamondsAreForever, Ronar, Aimee, Philosopher-of-sorts, Schmokie Dragon:
With many students living independently of their parents, why should student finance depend on their income? Why not be fair, and give everyone an equal platform in which to start their education, giving everyone the same amount of money? Then the rest that they need they can supplement from external sources i.e. a job/overdraft/family.
Caroline Lucas' answer:
"For a start, the Greens support proper funding for higher education and oppose the current programme of academic cuts which poses a serious threat to the future of our universities and academics. We would seek to abolish tuition fees – and student loans – and, in the short term, advocate a return to student grants, which we believe would make for a fairer higher education system for all. The Citizen's Income would eventually come into play, allowing students to meet living costs more easily.
For many students who choose to live away from their families during university, the move out of the family home is a crucial aspect of the experience as a whole. To help students take this step, the Greens would address high living costs by making educational institutions take greater responsibility for housing provision for their students. This could take the form of flexible arrangements with local authorities and other housing providers in their areas. We want to see more provision of student housing on campus sites where appropriate or in purpose-built or refurbished accommodation – and rents would be set by rent officers to ensure that prospective students are not deterred from study by high housing costs."
——————————————————————————-
Question 3 – Asked by Prudy:
To what extent do you view university as a place for personal development and interest, learning and beginning research compared to providing training for the business world or world of work?
Caroline Lucas' answer:
"In my view, there is currently too much focus on the economic 'value' of a degree, which takes away from the idea of the university experience for its own sake. Higher education is essential in developing a more civilized and thoughtful society, and in allowing individuals to expand their minds and horizons. Of course it is important that we learn skills and knowledge that can be useful in everyday life – and the information necessary to help guide us into fulfilling work. But education should be treated as a process and not a product. An education system which makes students jump through hoops, pass endless exams based on a strict curriculum, and which is motivated solely by channelling students into the jobs market is a failing one.
What's more, evidence suggests that the best academic results are achieved by people who have an active desire to study at 'higher' level when they feel ready, ie, at various points throughout their lives, not just at aged 18, as an automatic extension of Further Education. University shouldn't necessarily be seen as the default option straight after A-levels – not least because it isn't the right thing for everyone. The Greens would make sure that state funding could be made available to those choosing to study later in life."
——————————————————————————-
Question 4 – Asked by iloverockandroll:
What clubs and societies were you a member of in your university days? Do you still have the same interests today?
Caroline Lucas' answer:
"I was incredibly active in the Campaign for Nuclear Disarmament (CND) in my student days – and also campaigned a great deal at grassroots level on women's issues and the environment. Being involved in the Greenham Common Women's peace camp in Berkshire in the 1980s was my first real taste of non-violent direct action, and it was this kind of grassroots activism that first drew me into politics. Opposing nuclear proliferation and promoting peace remain at the top of my priorities as Green party leader; I now sit on the national council for CND, and was honoured to be able to address over a million people protesting against the invasion of Iraq at the huge anti-war demonstration in London."
——————————————————————————-
Question 5 – Variations asked by Krakatoa, Tednol:
There's been an unprecedented transfer of wealth from the young to the old over recent years – unsustainable pensions that won't be available for our generation, huge house price rises and vastly increased healthcare spending primarily for older people – and this is likely to get worse as the baby boomers retire and there will be far fewer workers to pensioners. Do you think this is fair and what will you do, if anything, to address this?
Caroline Lucas' answer:
"It's important that younger generations don't feel disenfranchised as the general age of the population increases. We have a responsibility to look after our older people with good quality social care and fair pensions, but we must also fight for a fairer deal for young people who often feel that politicians aren't working for them. A general redistribution of wealth to create a fairer, more equal society in Britain is a priority for the Greens – and I would hope that this would go some way to addressing the concerns that you have outlined here. Proper social housing and our plans to invest £44bn in creating a million new jobs in green industries would also help to tackle the problems that many young people face in terms of high living costs and a difficult jobs market."
——————————————————————————-
Question 6 – Variations asked by The-Wi$e-One, SumTingWong, Tawm, ScoCmac, Repressor, Slam, CompactDestruction, Squirrelbo1, passthelemon,The Magic Manatee:
Will you reconsider the Digital Economy Bill considering the manner it was pushed through, without proper scrutiny, the lack of MPs in attendance at the Bill's hearing and also taking into account that some ministers have demonstrated considerable lack of technical knowledge on the consequences of the proposed legislation?
Caroline Lucas' answer:
"I completely agree with your analysis of the debacle surrounding the government's Digital Economy Bill. The Bill is a rash and ill-advised piece of legislation which was rushed through in the last few days of parliament – against the advice of industry experts and against the wishes of the many thousands of people who have campaigned against it online and elsewhere.
The Greens opposed aspects of the Bill as proposed by Lord Mandelson from the start, on the grounds that proposals to disconnect any account found to be illegally downloading or filesharing discriminated against other users on the same account – and failed to respect the individual's basic right to an internet connection in 21st century society.
In particular, we would seek to scrap clauses 11-18 of the DEB, which are technical measures relating to website blocking, account suspension and disconnection, on the basis that they have not been properly thought through.
Ultimately, legislation of this complexity should not be rushed; some of the proposals are sound, others are extremely hasty and potentially damaging, and cannot be easily reversed. Mandelson's attempts to shock and scare internet users into obeying copyright laws will backfire, and meanwhile undermine rights we all hold dear, including the right to be presumed innocent."
——————————————————————————-
Question 7 – Asked by: Spongepantssquarebob:
What would you do on a gap year if you could take one today?
Caroline Lucas' answer:
"A gap year would be a great opportunity for me to volunteer with some of the charities and support networks that work so hard to improve our communities – and make the UK a fairer and more inclusive place for everyone. In Brighton, for example, there are many local community groups and campaigning organisations that I'd love to spend more time with. Also, I'd like to put aside some days to read all of the books I've not had chance to read yet – and would seize the opportunity to catch up on some sleep!"
——————————————————————————-
Question 8 – Asked by: innerhollow:
For some time now, monetary policies have been made independently by the Bank of England, which stops decisions on these policies from being politically biased, thus preventing such situations as interest rates being modified unfavourably simply to garner votes. Similarly, are there any other areas of decision-making you feel would be best delegated to an independent body instead of remaining under government control (i.e. an independent drugs advisory committee) whereby these policies could then be decided free from political bias?
Caroline Lucas' answer:
"It's really crucial that policy making is properly informed by independent research – and follows as far as possible the recommendations made by leading experts in their fields. Unfortunately, we have seen this government distort and ignore the advice of even their own top scientific advisors on important issues such as drugs policy, preferring instead to act on the basis of ill-informed media campaigns and hysterical public sentiments. I do think that we need an independent drugs advisory committee to address the fact that the UK's drug policy has consistently failed. By ignoring the advice of scientific advisors like Professor David Nutt and snubbing peer reviewed research, the government risks making reckless decisions which cannot easily be corrected. Good science should take precedence over political motivations.
Independent bodies could also be beneficial in the areas of workers' rights (with independent labour courts mediating between workers, unions and employers) animal welfare and ethical research. The Greens would set up independent and publically accountable Ethical Boards, for example, at institutional, regional and national levels to evaluate scientific and technological research."
——————————————————————————-
Question 9 – Asked by: Flossy_, robbo3045, fretter778, Schmokie Dragon, emmarainbow:
How and to what extent will your party continue to fight for LGBT equality/issues? How much of a real priority is this for your party?
Caroline Lucas' answer:
"I'm proud of the Green Party's outstanding track record on the promotion of LGBT rights – and this aspect of our policy remains a top priority. Our general election manifesto includes strong commitments to further extend the rights and freedoms of LGBT people. There is still much to be done to end homophobia and transphobia, and the Greens are proposing far-reaching reforms, most of which will cost little or nothing.
We want to open up civil marriages and civil partnerships, without discrimination, to both same-sex and opposite sex couples. We would require all police forces to have LGBT Liaison Officers with paid time allocated within their work schedules to tackle homophobic and transphobic hate crime. We want to end the blanket lifetime ban on gay and bisexual blood donors, and amend the Equality Act to provide explicit protection against harassment to LGBT people. Greens would refuse visas and work permits to 'murder music' singers and others who incite homophobic and transphobic violence, while also ensuring safe haven and refugee status for LGBT people fleeing persecution in violently homophobic and transphobic countries. The party would also ban faith schools from promoting homophobia on the grounds of religion.
We're lucky enough to have an incredibly strong LGBT team in the Greens, including Peter Tatchell, the UK's leading LGBT campaigner and our human rights spokesperson, and Phelim MacCafferty, who is chair of LGBT Greens, We challenge the other parties to match our LGBT pledges!"
——————————————————————————-
Question 10 – Asked by: tangohead, whizz_kid:
Recent discussions with regard to the cuts that need to be made to recover the national deficit has highlighted (by all parties) the scientific research budget as one of the places where cuts will take place.
I, like many others, believe that science is one of the key ways to bring us out of the economical situation we are in by reducing our dependence on banks. Simultaneously, won't this result in a brain drain from the UK? What are your views on this, and what are your party policies on scientific research funding?
Caroline Lucas' answer:
"Science is the key to increasing our knowledge and understanding of ourselves, the planet, and all its life. Science and technology are deeply integrated into our society, and research is essential in the fight to conserve the finite resources of the world, tackle environmental pollution and bring about a better quality of life for all. This is why I want to make sure that science is protected from drastic spending cuts.
Under a Green government, fundamental research in science would be funded from central and regional resources. There should be several routes for obtaining funds, including universities, research councils, technology commissions & environmental commissions. There should also be opportunities to fund individuals, and not just projects, and for constructive dialogue between funding agencies and researchers to facilitate greater flexibility in funding, use of resources, and collaborations.
Greens would make available a high level of funding for applied research into the environment and the ecology of the biosphere and threatened habitats will attract. Personally, I would rather scrap the morally bankrupt replacement of the UK's Trident weapons system, set to cost up to £76bn over its lifetime, than risk the future of our scientific progress through swingeing cuts to research funding."
Thank you Caroline Lucas. For more information about the Green Party, their policies and Caroline Lucas visit the Official Green Party website.
——————————————————————————-
Find out what the students thought of Caroline Lucas' answers to their questions.
The latest TSR poll results are in; over 1,000 opinions demonstrating what the issues are that influences the student vote and hhow they intend to vote.
How did the students think the leaders performed in the first ever TV debate?
Last edited by J : 1 Minute Ago at 18:26.